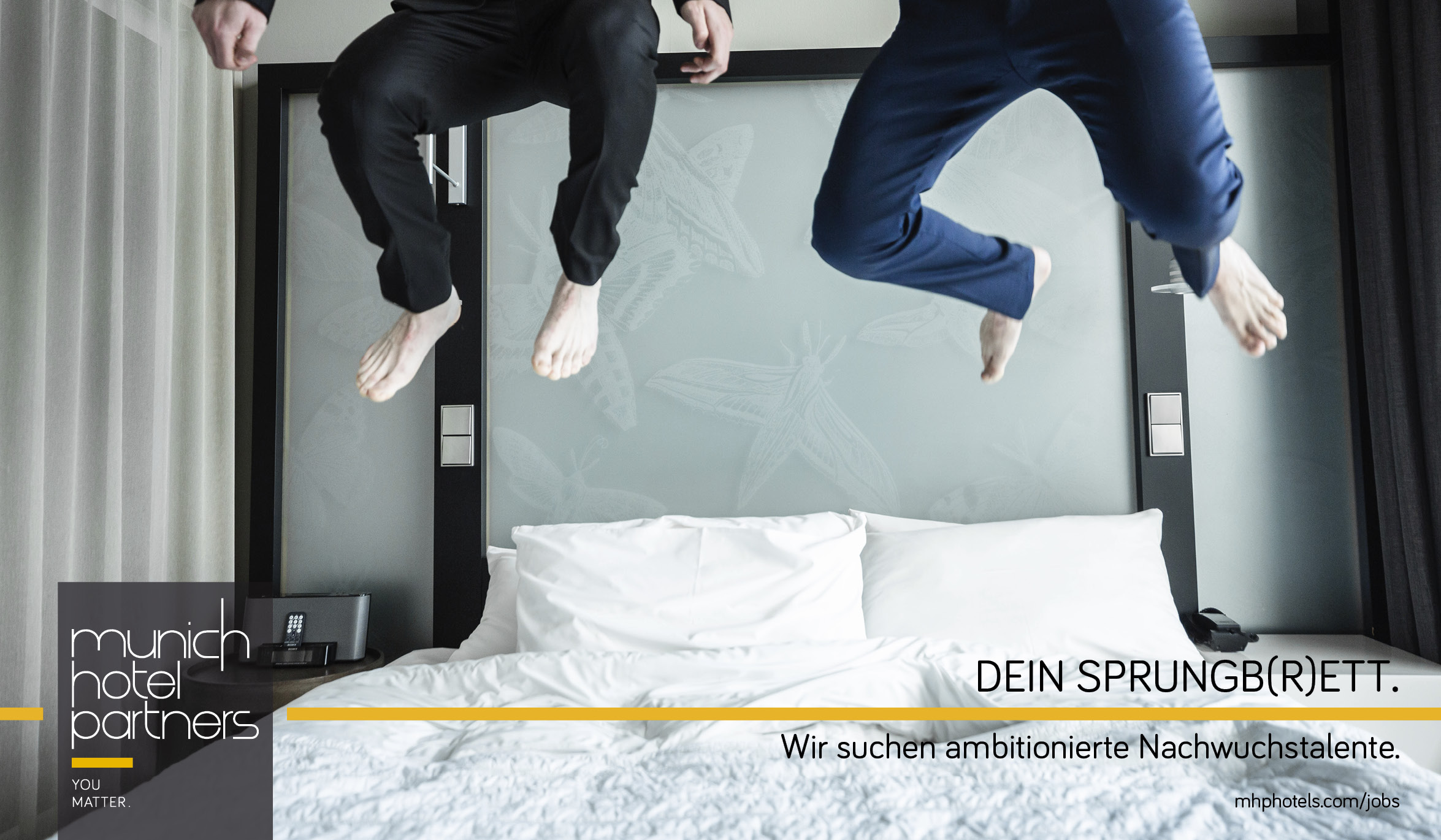 Aufgaben
Are you ready for your next traineeship in an international environment? 
Why trainees choose us?
Jesper, Duty Manager trainee and student of the Breda University of Applied Sciences describes MHP:  "Working for this amazing company with great colleagues creates a perfect environment to improve the skills and the knowledge you need to become a future manager in the hospitality industry."
Choose your favourite destination:
Le Méridien (Vienna, Munich, Stuttgart, Hamburg) // JW Marriott Hotel Frankfurt // Sheraton Düsseldorf Airport // Hotel Luc Berlin - Autograph Collection // Marriott Basel // MOOONS Vienna (MHP's 1st personalized lifestyle brand in the centre of Vienna!)
Traineeships (F&B, Rooms Division, Events, HR)
 Your 10 MHP arguments:
    1. World traveler? Stay in over 8,500 hotels at low prices!
    2. Life planner? We are very flexible in order to get the perfect work-life balance!
    3. Mindfulness fan? So are we. We show respect to you and each other. #youmatter!
    4. Philanthropist? Us, too: commitment to social projects!
    5. Life planner? For sure you will get well compensated for your traineeship.
    6. Career climber? We've got just the thing for you: catapult yourself to the top!
    7. Friend whisperer? You recommend employees, you get a bonus!
    8. Chill & party professional? Sometimes we get together for a fun time!
    9. Body-conscious? Free meals and drinks in our employee restaurants throughout the day!
    10. and the 10th argument is YOU!
So you're:
You are flexible.
You are friendly and open-minded towards our international guest.
You have a hands-on mentality.
You are a team player.
You also want to support other operational departments.
Please note that you need a valid work permit for the related country. 
Please note that if you are a non-EU citizen, you will need a valid work permit for the respective country.
Do you want to start your career with us? Then start right away and send us your application. 
Please don't forget to mention your favourite MHP location you are interested in.
About us:
MHP Hotel AG is a founder-managed independent hotel investment and management platform. Since 2012, the company has been designing and implementing innovative hotel, gastronomy and bar concepts in the premium segment. MHP operates as a partnership link between hotel investors and franchisors, as well as between our hotel guests and hotel teams on site. Currently, the Le Méridien Hotels in Hamburg, Stuttgart, Munich and Vienna, Sheraton Düsseldorf Airport Hotel, Hotel Luc, Autograph Collection in Berlin, JW Marriott Hotel in Frankfurt, Basel Marriott Hotel as well as Hotel MOOONS in Vienna are in our hotel portfolio. In addition, Koenigshof  Munich, a Luxury Collection Hotel and Conrad Hamburg are scheduled to open in 2024/2025. Since the end of 2021, the company has been listed on the Regulated Unofficial Market of the Munich Stock Exchange as a result of the contribution of Munich Hotel Partners GmbH to the former Lifespot Capital AG - now MHP Hotel AG. Access to the capital market opens up far-reaching options for the MHP Hotel Group to implement our ambitious growth strategy.
Your contact persons:
Nicole Koch / Eva Proch
E-mail: nicole.koch@mhphotels.com / eva.proch@mhphotels.com

Im Moment ist kein passender Job dabei? Dann hier direkt für unser Talent Network registrieren.
Nicht der richtige Job dabei?
Einfach Teil unseres Talent Netzwerks werden und immer über unsere neuen Jobs informiert bleiben oder sich einfach initiativ bewerben.